Obituary for Thelma L. Dunton
OBITUARY
On Wednesday, December 28, 2022 , Thelma L. Dunton (Momma Thelma) departed this life peacefully at home and gained her wings.
She was born to the late Ivory Baker Dunton and Marie I. Chatman- Dunton, in Tulls Creek, Currituck, North Carolina.
In 1952, she married Fransis Jordan and from this union two boys were born, the late James F. Jordan and the late Stanley O. Jordan. After her divorce she migrated to Harlem for a better life for her children. While in Harlem, she met the love of her life and married Harry Lee Bradley in the early sixties. She always said the second time around was a charm. They Had no children from this union, but she welcomed his one daughter, Harriet Woods, and he welcomed her two sons, James Francis Jordan and Stanley Otis Jordan.
Thelma " Momma Thelma" accepted Christ at a young age. She was a lifelong member of Weeping Mary Disciples of Christ, Moyock, North Carolina. When she migrated to Harlem she became an active member of Shiloh Church of Christ Disciples of Christ in Harlem, New York. Momma Thelma loved the Lord and wasn't ashamed to tell folks about HIM.
Momma Thelma graduated in 1947 from Currituck County Training School. She worked for 35 years as a Caregiver for a local family in Franklin, Kentucky until she retired. After retirement, she moved back to Harlem to be close to her mother, sister, sons and her grandchildren in the late 80's.
Momma Thelma was the life of the party. Everywhere she went she had a good time. She loved her husband dearly, and shared it with everyone she met. Momma Thelma loved to dress and was always up on the latest fashion and style. She even taught her granddaughters how to strut. For the people who knew her in her later years she also took a liking for all the younger men in her building. Every man in her building was her "boyfriend". They all loved Momma Thelma as if she was their grandmother or mother.
Momma Thelma shared with many that if she was going to live to be ninety- something years old she would have taken better of herself. Well she didn't do too badly because she made it to the rip age of 95.
She was predeceased by her parents; Ivory Baker Dunton and Marie I. Chatman- Dunton; two sisters; James Thelma Dunton Marion B. Dunton; two aunts; Clara Chatman- Seymore and Elizabeth Miller; two uncles; William Miller and Johnson Seymore; two sons; James F. Jordan and Stanley O. Jordan; one grandson; Frederick C. Jordan; and one great grandson; Nisier Jordan.
Those who remain to cherish her legacy are her daughter- in- law; Shirley R. Jordan(James Francis) of NJ; her niece; Gailen D. Marshall of NY; her stepdaughter; Harriet Woods of TN; her grandchildren; Terrence Smith of NJ, Seleta Jordan of NY, Yolanda Cromarty (Delrentis) of NY, Natalie Jordan of NJ, Tanya Jordan of NJ, Montrise Badson (Chris) of NC, Jamal Jordan (Shauntel) of NY, Karen Brice of NY, Derek Hatcher(Shaunna) of CA, Sandra Edison (Ronnie) of TN, Stephen Woods of TN, and Kandes Hatcher of TN; her great great grandchildren; Randi Weeks of GA, Kennedy Badson of NC, Savoy Smith of NJ, Eboni Ealey (Tyrell) of Germany, Kierra MacArthur of GA, Sparkle Garnet (Pierre of MD, Ollie Aries Jordan of NY, James Francis Jordan II of SC, Jalissa Jordan of NY,, Nyle Jordan of NY, Sani Jordan of NY, Naomi Norman of NJ, Nahla Hatcher of CA, La Vada Hatcher of TN, Jaidwn O'Bryant of TN, Justic O'Bryant of TN, Zoey Hatcher, and Jalen McGregor of MO, andd Frankie Brice of NY; great great great grandchildren; Jayla Heiggs of NY, Jordan Heiggs of NY, Amerrah Weeks of GA, Jadeen Rhikia Moore of NJ, Jamarcus Fisher of NJ, Ollie McArthur Jr. of NJ, Jayden Turner of NY, Kahri Cooper of NJ, Neol Cooper of NJ, Legend Diaw of NY; great nephews; Kenneth and Frederick Marshall of NYC; and a host of cousins and friends.
Funeral Services for Thelma Dunton will be held on Saturday January 14, 2023 in Weeping Mary Church of Christ Disciples of Chirst in at 2:00 PM by Elder Marcus Etheridge, Pastor. Interment will follow in the Chatman Family Cemetery. Condolences may be made to the family at www.robinsonfuneralandcremation.com.
A. C. Robinson & Son is assisting the Dunton and Connected families.
Read More
To send flowers or plant a tree in memory of Thelma L. Dunton, visit the Tribute Store.
Previous Events
Service
Weeping Mary Church of Christ Disciples of Christ
2346 Tulls Creek Rd.
Moyock, NC 27958
Interment
Chatman Family Cemetery
Tulls Creek Rosd
Moyock , NC 27958
Cemetery Details
Location
Chatman Family Cemetery
Tulls Creek Rosd
Moyock , NC 27958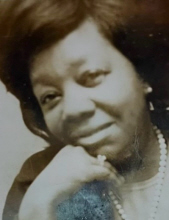 Thank you for sharing your
memory of Thelma
Provide comfort for the family by sending flowers or planting a tree in memory of Thelma L. Dunton.
No thanks, please don't show me this again.